Return an item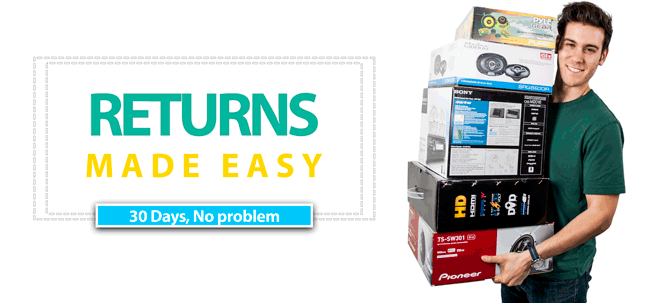 We are here to help!
You can return items that are complete and like new within 30 days of its shipment for a full refund, exchange, or store credit. Some exclusions apply
Accepting a Return
If for any reason you aren't satisfied, you can return your item in its original condition for a refund or exchange. If unit has been installed it can no longer be returned. If product is not returned in its original condition including boxes, manuals, or the original container the return will be subject to a 20% restocking fee. If you have any questions about our return procedure, please don't hesitate to contact us at 800-363-0096.
Items must be new
Quality Mobile Video may refuse a customer return or charge a restocking fee when the returned item is not like new.
Exclusions: items that are not refundable are listed on the exemption below.
If you have any questions about our return policy, please give us a call prior to placing your order at 800-363-0096.
Non-returnable items:
Special order items
Vehicle Specific Headrests and Vehicle Specific Headrest DVD Players (I.E. Rosen, Vizualogic, and Audiovox)
Items that have been installed
Interface Modules (I.E. Audio system interface, Navigation interface)
Activated XM Radio Receivers
All Cables and cabling
Cellular phones, batteries, and accessories
Installed Wiring Harnesses
Mounted subwoofers and subwoofer enclosures
Remote Controls
FLIR Systems
Used prepaid installation cards
Items with missing or defaced serial numbers
Items returned damaged due to improper packaging
Non-refundable expenses: Shipping services, customs and duties (international) and installation services are not eligible for refund or compensation. All items or packages shipped free of charge will be subject to a $12 shipping fee.
Refused delivery: All refused shipments will be assessed two transportation charges.
Items Automatically Subject to 20% Restocking Fee
Home Video Products
Portable DVD Players
Portable Navigation Systems
In Dash Navigation Systems
Request a return
To return a mobile video item to Qualitymobilevideo.com, follow the process below:
Login to you account by clicking here
Click on the link under my account labeled RMA
Your order information should appear
There is a link on the upper right hand corner labelled Request New RMA
Enter all relevant information to the return
Things to keep in mind
Once the return is accepted you will receive an e-mail indicating your return has been accepted
Place all the original packaging in the box, including the instruction manual and all accessories. Enclose return slip with the RMA number
Ship package in a shipping carton insured to our return center using a shipper of your choice unless a label has been provided for you.
For a FedEx location nearest you, call 1-800-463-3339 or visit www.fedex.com.
Refunds can take up to 1 - 2 weeks to appear on your statement. Original shipping amount will not be refunded. A $12.00 service fee will be charged on all items shipped free of charge.
Once your return is received, it will be reviewed by our Quality Assurance department. You will receive notification regarding your return or exchange within 5 business days.
Please note: All returns must be shipped back in a shipping carton. Items cannot be shipped back in product boxes.
Any unauthorized, improperly packaged, or non-insured packages will be returned to sender. Items that show signs of wear or have been, scratched, altered, or damaged in any way cannot be accepted for return.